Posted by Michael Andersen (Contributor) on April 7th, 2014 at 9:12 am
Here are the bike links from around the world that caught our eyes this week:
Mapping crashes: A team of MIT researchers has visualized every reported bike collision from 2010-2013 in Portland and a few other cities. I was surprised by how many happen on streets without marked bike facilities.
Handmade framebuilding: Atlantic Cities takes a deep dive into the ongoing golden age of handmade framebuilding, with Portland companies front and center.
Used bike market: Somebody's finally done a study of the underappreciated but ubiquitous used bicycle market. About 7.5 million of us own them and they're worth $2.4 billion combined.
Biker's monologue: I don't love everything about Buzzfeed's 53 thoughts every cyclist in a city has, but some of them are pretty funny.
Free business tip: The tradition of "ghost bike" memorials is probably not a good platform for your viral marketing campaign.
Switching scripts: Rebel Metropolis has a funny best-of from the weekend's #ReplaceBikeWithCar game on Twitter.
Housing demand: If you're lucky enough to have a single-family home in a walkable neighborhood, you're sitting on the hottest commodity in American real estate. Only half of Americans now say they'd prefer a large yard to a small one or to no yard.
Pricing parking: It was heartening to see PBOT Director Leah Treat tweet this roundup of recent studies showing the economic benefits of charging people money to park on public streets.
Recycled highways: "We've all heard about rails to trails. How about roads to trails?"
Texas biking: Texans are discovering that "Companies like Samsung and Google are looking at the bicycle facility infrastructure before they decide what city they're going to locate in," and it's persuading their leaders to make big bike infrastructure investments.
Utility rider: When the mayor of New Zealand's capital city arrived to a meeting with then-Secretary of State Hillary Clinton, nobody would have guessed she'd shown up on a bike. She usually does.
Competitive pedestrianism: In the 1870s and 1880s, "watching people walk was America's favorite spectator sport."
Car dependence: In our auto-centric cities, poor people who own cars are better off than poor people who don't, but that doesn't mean we shouldn't be making it easier for those who don't.
Helmet study: I'd love to see someone fluent in both German and Science assess this study finding that the total social costs of bike helmets are 40 percent greater than the benefits.
Death toll: Just under three percent of all human deaths are now caused by motor vehicles.
Bike share benefits: A bill we covered last fall that would make bike sharing fees a tax-deductible commuter benefit has passed a key hurdle in the Senate.
Backup transit: New York's Citi Bike just released the first trove of data on its usage patterns. I love how they show, among other things, that people jump on Citi Bikes every time the subway's running late: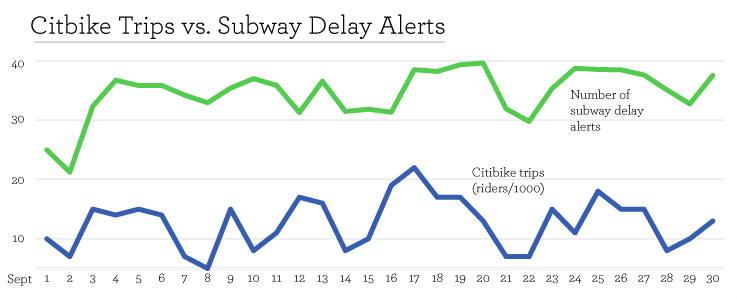 Bike share advocacy shift: New York City's top bike advocate is publicly shifting from Citi Bike cheerleading to sharp criticism of Alta Bicycle Share, Citi Bike's Portland-based management, on behalf of Citi Bike users.
Activated by honking: The Bicycle Story has a long, interesting Q&A with Streetsblog founding editor Aaron Naparstek, a onetime web usability expert who started seeing streets as an "interface design problem."
If you come across a noteworthy bicycle story, send it in via email, Tweet @bikeportland, or whatever else and we'll consider adding it to next Monday's roundup.