Bicycle riders make up about 20% of the average daily traffic on the Hawthorne Bridge.
(Photos © J. Maus/BikePortland)

Yesterday the Hawthorne Bridge bike counter logged its 2 millionth trip since it began tallying riders on August 8th, 2012.

That puts the average weekday amount of bicycle trips over the bridge (in both directions) at about 5,600. For comparison, there's an estimated 22,000 cars crossing the bridge on an average weekday — which means bicycle traffic accounts for about 20% of the bridge's total vehicle traffic.
Thanks to the web interface that keeps a running tally of the data collected by the counter, we can dive into trip statistics on a daily, weekly, and monthly basis. So far, the highest recorded day was June 8th of this year with 9,834 bicycle trips (that date also happened to be the World Naked Bike Ride). When you look at weekly and daily totals, it becomes very clear that weather plays a major factor in how many people bike each day. PBOT hasn't crunched recent numbers alongside weather patterns yet, but my cursory analysis shows a drop-off of about 2,000 daily trips when the weather turns iffy (we hope to share more data on the weather correlation in a separate post).
Here's how the monthly trend looks since last August…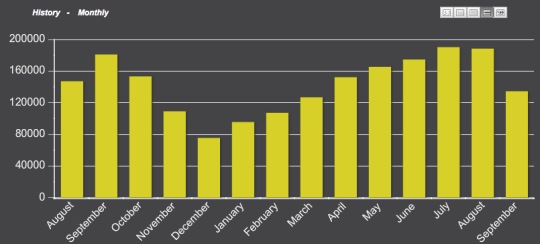 These numbers validate what we've known for years: The Hawthorne Bridge is a key artery in our road network and Portland is much better off because so many of the vehicles it carries happen to be bicycles. As we shared back in 2010, since 1991 Portland has increased the amount of people who travel to and from the central city via the Hawthorne Bridge by 20%; and because that increase in total vehicle traffic has been almost entirely bicycles, we have reaped major benefits. If the motor vehicle trips had increased at the same rate, we would have widespread congestion, more toxic pollution in our air, and we would have a more urgent need to make costly investments into the bridge and adjacent roads and ramps.
To commemorate the 2 millionth bike trip and soak in this span's cycling splendor, I hung out on the bridge yesterday afternoon in hopes of spotting rider number 2 million…
— Read more stories about the Hawthorne Bridge bicycle counter in our archives.