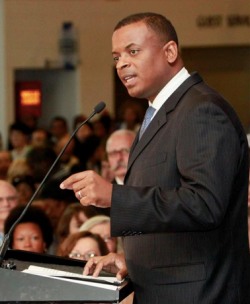 Anthony Foxx could be
our next DOT Secretary.
(Photo: Anthony Foxx Facebook Page)
News has broken this evening that President Obama will pick Charlotte Mayor Anthony Foxx as the next US Department of Transportation Secretary. Foxx, 41, would replace Ray LaHood, who Obama appointed in December 2008.
Foxx has been mayor of Charlotte for almost four years and just recently announced he would not seek re-election. He's a former lawyer who has spent most of his professional life in politics. From what I've seen reported so far, it appears Foxx does not have much transportation experience. He's pushed for highway widening projects, he's started a streetcar revival in Charlotte and he's a big proponent of rail transit in general.
Here's more on the selection of Foxx from Slate's Matthew Yglesias:
"It's a savvy choice from the standpoint of the White House's politics. Charlotte is a fast-growing and successful sunbelt city, and Foxx is well-regarded locally and politically associated with efforts to make it a bit less of a sunbelt sprawl zone and a bit more of a dense urban area…

…In the scheme of things, I like a mayor who's invested in transit and density much more than the majority of transportation secretaries we've had in America but my dream candidate would have only put forward great transportation projects. But fundamentally lots of good things have happened in Charlotte under Foxx, and tapping him is a good sign that Obama wants to continue with progressive transportation reforms. I'm happy."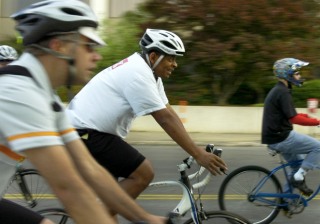 Foxx riding his bike to launch Bike Charlotte!.
(Photo: Davie Hinshaw/Charlotte Observer)
And Foxx's hometown paper, the Charlotte Observer, had this to say about Foxx's perspective on transportation:
"Foxx is interested in how transit can shape urban development, and he shares the Obama administration's support for high-speed rail and creating walkable cities with development clustered around transit stops."
As for bicycling, Foxx has actively supported it. He's held an annual "Bike to Breakfast" event and he hops on a road bike to help launch "Bike Charlotte," an annual cycling promotional campaign. When Charlotte launched their bike share system last summer, Foxx grinned for the local media during the inaugural ride.
Rob Sadowsky, executive director of Portland's Bicycle Transportation Alliance (BTA) said this evening that he's "very excited to have a Secretary that likes to bike, understands the need for a balanced transportation system and understands urban land use."
As a bike town, Charlotte isn't a major bright spot; but they appear to be on the rise. They are currently recognized as a "Bronze" level Bicycle Friendly Community by the League of American Bicyclists. The City of Charlotte Bicycle Plan was last updated in 2008. According to the 2012 Benchmarking Report from the Alliance for Biking and Walking, Charlotte ranks 44th (out of 51) in U.S. cities in terms of how many people walk and bike and 23rd in spending per capita on biking and walking projects. The U.S. Census reports that Charlotte has a 0.2% bicycling mode share.
Obviously, there's a lot we don't yet know about Foxx and how he'd manage America's transportation system. And of course, he might not even be confirmed. Stay tuned.
UPDATE, 4/19 9:13 AM: Here's the statement on Foxx's selection from League of American Bicyclists President Andy Clarke:
"When Secretary LaHood announced his departure, the bicycling community asked the White House to appoint a successor with a clear commitment to multi-modal solutions to local transportation challenges, and Mayor Foxx clearly checks those boxes. Under his leadership, Charlotte has invested in light rail, a bikeway network, and a bikesharing system; the city's Complete Streets approach to building a transportation system that serves all users is a model for the nation. He clearly understands the importance of biking and walking to creating a vibrant and economically successful community where businesses want to locate; where people want to live, raise a family and retire; and where people have a real choice of transportation modes. Cities are the economic engine of the nation and Mayor Foxx knows firsthand the importance of providing an efficient and equitable transportation system that offers real choices while also addressing the health and safety of its residents. We look forward to working with Mayor Foxx in his new role."
CORRECTION, 9:09 AM: This article mistakently attributed the following quote to Foxx: "The goal of any transportation system, especially rail transit, is not to move people. That is not the goal. The goal is economic development at the stations. The means is by moving people." That quote was said by Christopher Leinberger, a professor at the George Washington University School of Business in this Washington Post article. I regret any confusion this caused.