10.3 percent of parents in a recent
City survey said their kids bike to school.
(Photo © J. Maus/BikePortland)
The City of Portland has just compiled the numbers from their fall 2012 Safe Routes to School parent survey. The results show an encouraging upward trend of biking and walking rates. In fact, 10.3 percent of the fall 2012 survey respondents said they biked to school. That's a 36 percent increase from fall 2011 and it's the highest bike mode share recorded they've ever recorded.
When taken together, the walking and biking mode share is 42.7 percent — an increase of 38 percent since 2006.

The City's Safe Routes to School program has been doing these surveys twice a year since 2006. This most recent survey was sent out to parents at 50 of the City's 80 partner schools where the Safe Routes program is taught. According to Safe Routes program manager Gabe Gaff, they received 2,326 responses.
Other highlights from the fall 2012 survey:
The biking and walking mode share was 42.7 percent. That's the highest combined total ever.
By contrast, the survey tallied the lowest "family vehicle" mode share ever at 35.5 percent.
The bike mode share has increased 255 percent since 2006
Here's a PBOT graph showing how the walk/bike total stacks up against the "family vehicle" number: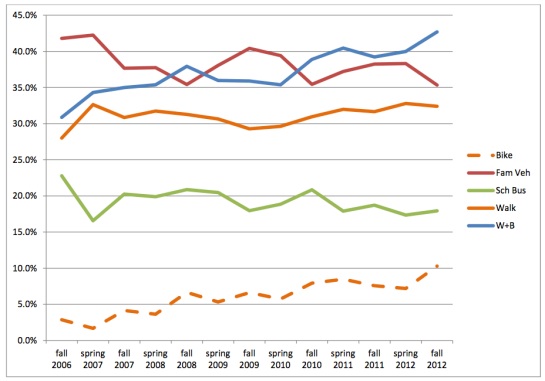 It's interesting to look at the long-term trends. Biking shows significant increases, with walking having a more slow and steady rise. Driving, carpooling, and taking the bus, on the other hand, show a decline. Here's the chart with a breakdown of each mode: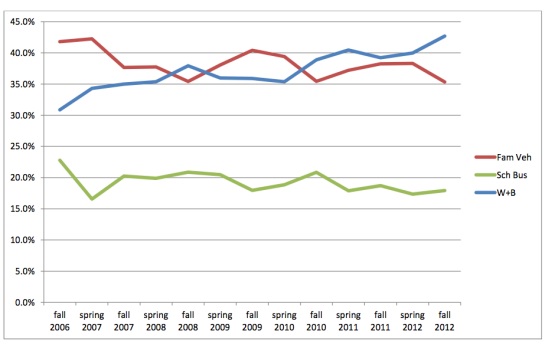 These survey results come after years of strategic focus by PBOT and their partners (most notably the Bicycle Transportation Alliance) to encourage biking and walking at Portland public schools. The Safe Routes program not only includes an educational curriculum that train kids both inside and outside the classroom, but it is complemented with a variety of PBOT initiatives to improve the physical infrastructure around schools including bike parking, safe crossings, bikeways, and more.
Learn more about PBOT's Safe Routes program on their website.