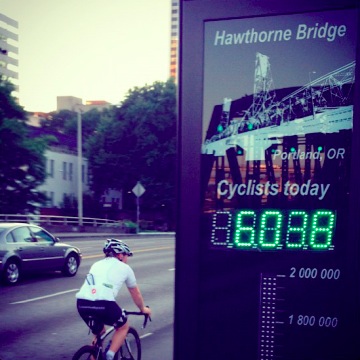 6,038 as of 7:49 pm last night.
(Photo © J. Maus/BikePorltand)
Portland's new bike counter had its first full day of operation yesterday and it logged 7,432 bike trips across the Hawthorne Bridge. That number is relatively close to 8,044, which is the average daily number of trips PBOT tallied in their official 2011 counts.
As the counter rolls out, I'm still learning more about it and clarifying some confusion surrounding it.
First, I want to share that contrary to what I understood from PBOT staff, the daily and annual bike trip data is available online. The company we purchased the counter from, Montreal-based Eco-Counter, has a website up for the Hawthorne Bridge counter which displays the data in a few different formats. (UPDATE: According to PBOT bike coordinator Roger Geller, the website is updated once a day at 2:00 am.)

Screen grab of Eco Counter website.
Last night, unable to sleep without knowing the first day's final tally (and didn't realize it'd be available online), I rolled down to see it at around 11:45 pm. Unfortunately, the counter had already been reset. I've shared that glitch with PBOT and they're looking into it.
I have also heard that some eastbound bicycle trips are not showing up on the display. I have confirmed that PBOT is aware of this issue and that the manufacturer is shipping out a new antenna to solve the problem (it will be installed next week).
What's important to remember is that, even with the slight timing/reset glitch and this antennae issue, the actual counting of bicycle trips has remained rock solid. In other words, these issues are with the display only, not the underlying data collection.
Speaking of the data collection, I've learned a bit more about that as well. Turns out there are two counting mechanisms. Yesterday I explained how the air hoses create a pulse when depressed by a bike tire and then send that pulse via radio frequency to the counter. Today I learned the data from each bike trip is also sent via modem to a server in France, where it's then beamed onto that website I linked to above.
Another thing to keep in mind is that the Eco-Counter website only offers basic information to the public; but according sources at PBOT, they get to see a much more detailed view. They can analyze and download the data based on direction of bike travel, traffic volume by hourly increments, and more.
One last thing (for now) that I want to clear up is all the confusion about whether or not this is the first such bike counter in North America. A Twitter friend of mine from Ottawa pointed out yesterday that they have a bike counter with a public display; but it turns out that display wasn't permanent and it has since been taken down. This means that Portland's bike counter (according to both PBOT sources and officials at Eco-Counter) is the first permanently installed bike counter with a public display in North America. All right then. I hope that's finally settled.
I'm sure many of you rode past the counter on the way into work this morning. What do you think?
— For more on Portland's new bike counter, watch this new video from Streetfilms and browse our recent coverage.