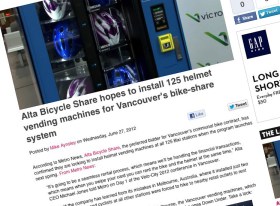 Much has been debated about the how the use of helmets impacts bicycling rates (or doesn't). Now the debate is finding a new battlegrounds among the burgeoning crop of bike-share systems throughout North America.
Vancouver B.C. is an interesting case. The city is lauded as a leader in bicycling (they're even hosting the major international cycling conference Velo-City this week), yet they are saddled by an all-ages, mandatory helmet law. Like Portland, Vancouver is working on their roll-out of a bike-sharing system and many people are watching how the helmet equation plays out. After all, if helmets are mandatory, that means every person who checks out a bike-share bike must have one on.

The fear among many observers is that the helmet obligation will effectively kill the chances of bike-share's success in Vancouver. Bike-share works because it's a casual, impulsive thing, used for quick short trips often taken by tourists or downtown business folks shuttling between meetings. In other words, not the type of trips (or customers) that are easily helmeted.
How concerned is Vancouver? Here's a snip from a Vancouver Sun article published earlier this week :
Jerry Dobrovolny, Vancouver's transportation manager, acknowledged B.C.'s helmet law poses the "biggest risk" in getting the city's proposed subsidized public bike rental system off the ground and may potentially result in the program being shelved.
Well, now it appears a solution has come forward. Open File reported today that Alta Bicycle Share, the Portland-based company and leading bike-share operator, is proposing to install 125 bike helmet vending machines — one at each of Vancouver's rental kiosks. An Alta rep told a local newspaper at Velo-City that it will be a "seamless rental process" so when you swipe your card to get a bike, you'll also be able to get a helmet at the same time.
It's also worth noting that Alta is not only based just over the river from City Hall, they are also one of the four companies selected to be a possible vendor for our system (along with B-cycle from Wisconsin, Portland Bike Station, and The Bike Share Group from Seattle).
Will we see Alta's helmet vending machines here? How Portland will handle the helmet issue?
We may not have a mandatory law; but we do have a lot of righteous people in this town who feel the City should not condone cycling unless helmets are involved. The Bureau of Transportation (PBOT) is well aware of this fact. In their request for proposals for a bike-sharing vendor, PBOT mentions helmets several times.
In their RFP, PBOT lists helmet availability as one of the "uniquely 'Portland' public benefits" that they'd like to see spring up at rental stations (along with free maps, food/drink vendors, and ATMs). PBOT also asks potential vendors to describe in detail their, "Ability to dispense complementary materials, such as the ability the sell or dispense bicycle maps, bike helmets or other information from the kiosk…" Helmets also come up in a section where PBOT asks vendors to describe the "user experience." "Describe your plan to provide helmets for bike sharing users," it reads.
My hunch is that PBOT included that language only to appease helmet-conscious constituents. After all, not only are Portlanders not legally obligated to wear helmets, we already have a very high rate of helmet use in this town. The most recent counts put the percentage of helmet use at 80% — a three percent increase over the year before.
Even though they might be inclined to pitch the helmet vending machines here, I hope Alta resists. The last thing we need to do with precious space at bike-sharing kiosks is to give people the idea that a swipe of the card might lead to a smash of their head.