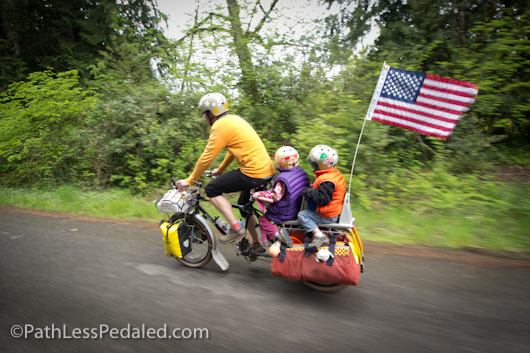 Re-defining car camping.
– Photos and story by Russ Roca. –

This past weekend, I joined CycleWild, a local nonprofit group whose mission is to reconnect people with nature via the bicycle, on one of their monthly overnight bike camping trips. This month's ride was to Milo McIver State Park in Estacada (about 26 miles southeast of Portland).
What made this weekend's trip unique is that three families were part of the fun. In addition to the usual stable of your typical touring bikes, there were a few family-inspired rigs including longtails (bikes with extended rear racks like the Xtracycle), a Brompton folding bike with a child carrier and a child trailer.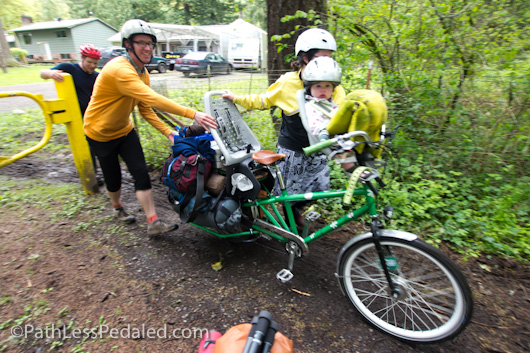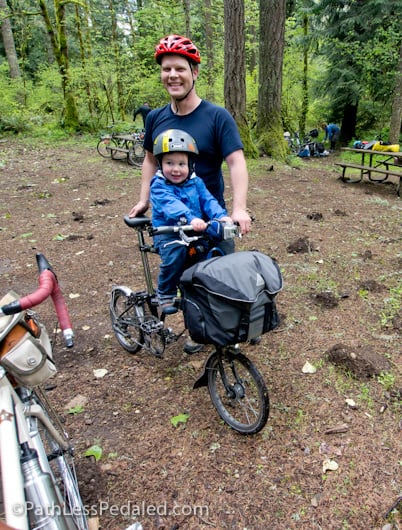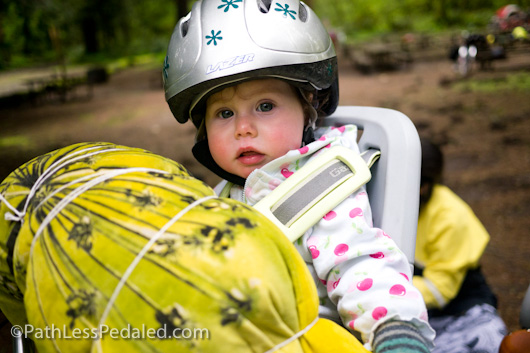 Riders had the option of either riding or taking the MAX to the Cleveland stop at the end of the Blue Line. The route from the Cleveland station is about 21 miles long with only one very short climb out of Boring and otherwise gently undulating terrain. The road conditions consisted of some muddy gravel trails, country roads, and a stretch on the 224, which fortunately had a large shoulder to ride on. There were several stops along the way for both adults and kids to take a break. People stopped and bought snacks and coffee in Gresham, Boring and Esatcada — demonstrating once again that people on bikes definitely eat more than your typical traveler.
The highlight of the ride was taking a gravel PGE access road that ran at river level from Estacada into the park. You had to negotiate a closed gate (it was a tight squeeze for some cargo bikes) but were treated to a quiet car free stretch along the water. The ride pace was leisurely and the group kept together. Matt Picio, CycleWild's founder, rode with the families to make sure no one was left behind.
Because of the size of the group (18 adults and 5 kids), the CycleWild organizers reserved a group campsite. Separated from the main camping loop by a walking trail, the group site was peaceful and quiet and free from cars driving around the loop or RV generators. Since the ride was relatively short, there was plenty of time to relax and for the kids to play. I sneaked off for an hour to the Clackamas with a fly rod and got two trout on the line. In the evening, everyone gathered around the campfire and made s'mores, popped popcorn and swapped tales.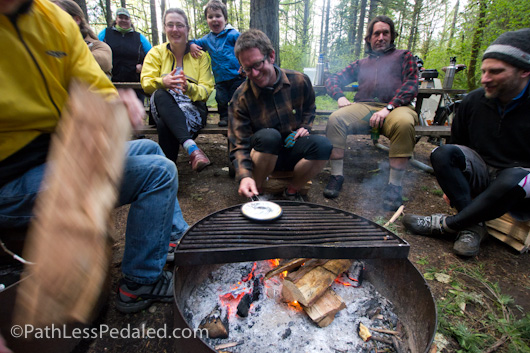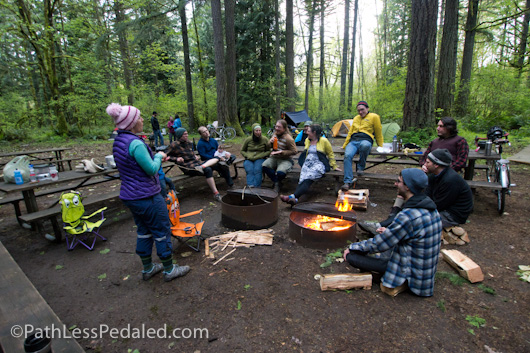 Bike camping is typically seen as a sort of an extreme activity, something that only the very fit or "hardcore cyclist" with specialized gear would attempt. Cyclewild has done a lot to dispel this myth, introducing bike camping to hundreds of Portlanders every year. This trip was more proof that anyone, even families, can travel by bike.
With gas prices rising every summer and the general economic downturn, bike camping at nearby state parks is great way to add more adventure to "stay-cations" just by changing how you get there.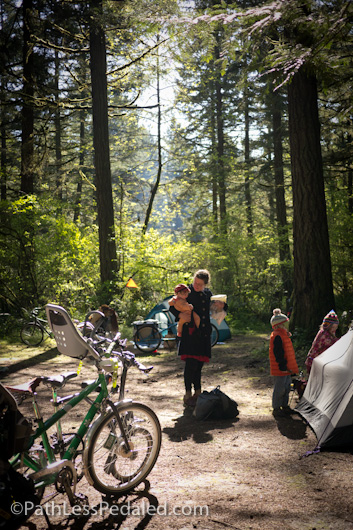 Russ Roca is a bicycle tourism advocate and half of the traveling duo behind PathLessPedaled.com.