2012 is shaping up to be a big year for women on bikes.
Everywhere I turn I see signs of a growing recognition that there needs to be more women riding bikes in American cities and increasingly — both from the grassroots and on a national advocacy level — people are doing something about it. Given that women played a big role in cycling's popularity in the late 1890s and early 1900s, this is a resurgence that is long overdue.
As someone who spends much of their day monitoring bike chatter on the Interwebs, reading bike magazines, and talking with sources from a variety of bike-oriented perspectives, I can report with absolute certainty that what we have going here is a bona fide trend (notice I say trend, not a fad).
I've noticed the emergence of new women's voices like Constance Winters of the popular and well-written Lovely Bicycle blog (based in Somerville, Massachusetts) and Trisha and Dottie from Let's Go Ride a Bike. On the West Coast there's Melissa Balmer, the rising advocate in Long Beach behind the Women on Bikes SoCal initiative. Last month her group launched the ambitiously named, "Let's Double the Number of Women & Girls Riding Bikes" project.
In Balmer's hometown, just 15 percent of bike trips are made by women. She's hoping one way to get more ladies on bikes is to show them how good they can look doing it. Her "dream for bicycle advocacy," she wrote recently, "is to harness the power of fashion and style for our cause." Call it the Copenhagen Cycle Chic advocacy strategy.
Elly Blue in 2008
Another female voice that's been around for years but is gaining strength for her written (and increasingly spoken) words is Elly Blue. Elly has written extensively on bicycling's gender gap and she has churned out an impressive string of Taking the Lane zines which are dedicated to exploring cycling from a woman's perspective. Interestingly, she shared on her blog today that it was her experience working with me on BikePortland that turned her into a "raging feminist." This weekend Elly will talk up her projects and her favorite issues as a panelist at the Seattle Bike Expo.
Speaking of women in the bike publishing world, there's Vancouver B.C.-based Momentum Magazine. Published by Tania Lo and Mia Kohut (and founded by another amazing woman, Amy Walker), the magazine's fashion-focused content often features women on the cover. And now that cover will be seen by a lot more people: With newsstand distribution, Momentum will be arriving on your supermarket aisle and the shelf of your favorite bookstore starting this month.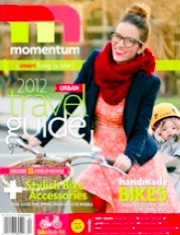 March/April cover
I'll pack the latest issue of Momentum when I shove off to Washington D.C. for the National Bike summit in a few weeks. Once I'm there, my itinerary includes first-ever National Women Cycling Forum (the keynote speaker is a women whose recent book chronicles women's role in shaping the history of cycling, and of America).
From the hills of the Tour de France to the halls of our nation's capitol and the aisles of your local market, 2012 is shaping up to be the year women hop back on the saddle.
— This Saturday, the City of Portland's Bureau of Transportation and a local riding club called Girly Bikes will lead a a Women's History Bike Ride.