New Mazda is "Truffula Tree Friendly"!
The auto industry will go to any length to sell their products: they'll promote speeding on city streets when going too fast is the #1 reason so many people die and get injured in traffic collisions every day across America; they'll sell huge SUVs and trucks even though they cause damage to humans around them and to the planet; they'll make non-car mobility options look bad and encourage cash-strapped college students to sign up for loans — and the list goes on.
But this time, for a growing list of activists, they've gone to too far.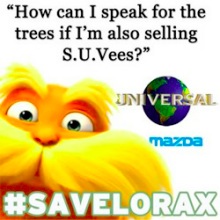 The product marketing buffet accompanying the new Lorax movie — a film based on a book that promotes an extremely important message about how some corporations care only about profits and not about the environment or what lives in it — includes a tie-in with Mazda.
The transportation advocates/journalists over at Streetsblog were quick to call out this unfortunate partnership:
"Yes, it's come to this. Theodor Seuss Geisel's 1971 parable about environmental stewardship is now being used to make people feel less guilty about purchasing Mazda-brand motor vehicles.

Not pictured in the ad: The Truffula tree forest that was clear-cut to make way for the four-lane highway the Once-ler built to sell more Thneeds. (Today Mazda CX-5 owners use that highway to get to their outrageously wasteful, greenhouse gas-spewing subdivisions.)"
Here's the Mazda/Lorax ad that features the pronouncement that their cars are the only ones to earn the coveted, "Certified Truffula Tree Friendly" Seal of Approval:

And today, the Washington Post highlighted the Mazda/Lorax promo effort in full swing. In addition to a national ad campaign, Mazda is taking the Lorax himself, along with their graphics-wrapped SUVs, into elementary schools:
"The Lorax — that squat orange creature Dr. Seuss created to speak for the trees — is now hawking SUVs at elementary schools across the land…

It was a hybrid event: a celebration of reading, a fundraiser for public-school libraries, and an opportunity to market Mazdas to the pint-size set. While they don't buy many cars themselves, they have direct access to parents who do."
According to the Post, a Mazda rep told a crowd at the school that the 35 mpg Mazda SUV is, "the kind of car we think the Lorax would like to drive," to which one student astutely pointed out, "The Lorax doesn't drive a car."
The Mazda/Lorax campaign has raised the ire of the non-profit group, Campaign for a Commercial Free Childhood. They've launched a national, "Save the Lorax" campaign that includes a petition and a media push. A spokesperson for CFCC told the Washington Post, "This is among the most outrageous examples of any school advertisement program I've ever heard of."
For me, this situation raises some troubling questions.
A few weeks back, national bike advocacy group Bikes Belong announced a major partnership with Volkswagen (a carmaker accused of greenwashing in a recent Greenpeace campaign). While that partnership is much different than the Mazda/Lorax one, they both show the pervasive grip car culture has on our society.
Can America embrace a future with less private-auto transportation when automakers' money and marketing is dedicated to the opposite outcome? Should we be concerned about the insidious creep of car culture into our daily lives? In my view, these are questions worth asking. What do you think?