Taking part in both Occupy Portland marches and watching support for the protestors grow both here and across the country, has been extremely inspiring for me. It has also got me thinking (of course) about the national bike movement.
Are there lessons to learn? Parallels worth thinking about?
One thing that has struck me is the genius of the slogan, "We, are, the 99 percent!" It's hard to argue with something that represents such a huge number of people. If I was a politician who wanted to get re-elected, I'd definitely be paying attention.

The slogan also reminds me of a stat cited often by bike planners and advocates. They say there are "four types of transportation cyclists." About 60 percent of people aren't riding yet because they're "interested (to ride) but concerned (about safety)." Add to them the 7 percent that are already riding, and about 1 percent that will ride no matter what the conditions. That's 68 percent (not 99 percent, but a healthy majority!).

The goal of the bike movement is to get those 68 percent as riled up, energized, and engaged as the people I saw at the Occupy Portland marches.
Can you imagine the chants? "We, are, the 68 percent!"
While obviously not as rage-inducing as losing a job or a home due to the inability of our government to sensibly regulate financial markets, there are real reasons for the 68 percent to be angry that bicycling in America isn't as safe and convenient as it should be.
Let's, for the sake of discussion, compare the "top 1 percent" with the last century of auto-dominated urban planning and its ongoing primacy due to the politics around transportation funding.
Below is a chart (stolen from The Rachel Maddow Show) of the key statistic that is helping stoke the Occupy Wall Street movement…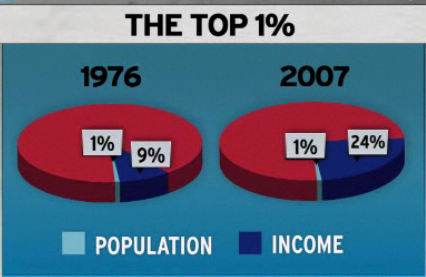 Active transportation advocates have many compelling statistics of their own. Here's one you might have read before…
In 1969, 48 percent of children 5 to 14 years of age walked or bicycled to school.
In 2009, 13 percent of children 5 to 14 years of age walked or bicycled to school.
And many of you are aware that bicycling dominated American life in the late 19th century, only to be all but eradicated by the onslaught of the automobile (which, ironically, took over the "good roads" bike lovers pushed for). The dominance of auto-centric development, policies, and roads are what have led to the situation where we currently have only 0.6 percent of our fellow citizens who use a bicycle as their primary means of getting to work.
Outrageous right? The 64 percent should be marching in the streets! People deserve equal levels of safety whether they choose to drive a car or ride a bike!
So where is the outrage? Where are the marches? Sign me up!
Back in April of 2008, there was some brief excitement for a national, "One Million Bicycles" movement, but after its launch one month later, nothing came of it. There's also the national People for Bikes campaign. That's a valiant and ongoing effort; but so far it remains to be seen if a vast email list of people "for bikes" can lead to real grassroots action that can have a major impact on transportation policy and politics.
To make change in America that's not supported by corporations or the existing power structure (both of which apply to bicycling), you need people in the streets. It's as simple as that. Conferences, summits, meetings with politicians, and new laws will only get you so far.
We had a small taste of this in Portland after two people died while bicycling within two weeks of each other in October 2007. The community voice after those tragedies was loud and clear. After bombarding City Hall with emails and voicing demands for change online, we went into the streets and into City Hall to demand change. And we got it. Those actions resulted in renewed attention on bike safety measures from PBOT, better relations between the community and the Police Bureau, and more.
The bike movement in America needs more rallies and protest marches.
In an interview on the Rachel Maddow Show last week, author and activist Naomi Klein touched on this issue. She spoke about Occupy Wall Street's role in the re-awakening the progressive left in America. Continue with my thought experiment ("the left" being the bike movement) and read her quote below…
"There really isn't an organized left anymore… We've become used to NGO's that are slick, media-trained, they've got their demands, they've got their messages… What they don't have is a base. There's no shortage of groups that have very specific demands about what should happen with Wall Street or what should happen with the tax system; but they don't have power… Because a group working for income redistribution is never going to be funded by large corporations…

So we have to work… in another kind of currency and that currency is bodies and energy and passion and that's what the left hasn't had in trying to be so slick and in using the methods of corporations to communicate."
I think Klein's words and its parallels for bike advocacy are important. Do we have enough "currency" to make real change happen? Or are we sitting back and hoping that "slick" non-profits will do it for us?
And finally, Klein made another excellent point that I think is very applicable and important to people trying to push bicycling forward in America.
During a visit to Occupy Wall Street in New York City, Klein spoke with a Wall Street employee that was supportive of the protestors. The woman told Klein she works on immigrant rights issues in her spare time and that all she hears is, "there's not enough money," for this or for that.
Sound familiar?
How often have you heard from bike advocates and politicians that "we need more money" or that there's "just not enough funding" for bike infrastructure? Like I've tried to share in the past, that's a big lie. There is plenty of money, our policy makers are simply deciding to spend it like they always have — primarily for auto-centric projects that maintain the status quo and that don't rock the boat.
Or, as Klein put it, "It is not a scarcity problem, it's a distribution problem."
—
If we continue to sit back and be satisfied with the incremental rate of change that many pro-bike politicians and advocates are happy with, transforming America into a truly bike-friendly nation is a long ways off. But, as we can see unfolding every day with the Occupy Wall Street movement, if we focus on building the grassroots energy and get people out into the streets, we'll get there much quicker.
I leave you with a spoken word poem from Portland-based citizen activist, filmmaker, and musician Dan Kaufman. "Occupy Wall Street? Yes. AND Liberate Main Street!"
As always, I'd love to hear your thoughts…