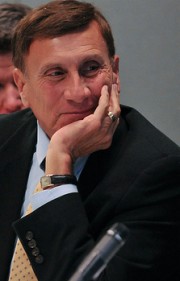 Say it ain't so, John.
(Photo © J. Maus)
National advocacy groups are having a busy spring thanks to numerous threats to important pots of federal bike infrastructure funding.
From the Recreational Trails Program to Safe Routes to School, many crucial funding pots that have provided millions to bicycling and walking projects over the decades are in jeapordy of being slashed by lawmakers in D.C.
The latest threat is perhaps the most blatant and it comes from a very high-profile and important figure in deciding what is included in the forthcoming transportation bill.
Representative John Mica (R-FL) — who took over as Chair of the House Transportation & Infrastructure Committee when Jim Oberstar lost his seat last November — is the latest in a long line of lawmakers who has compared "bike trails" to "beautification projects" and is now questioning their importance altogether. (The money in question is the Transportation Enhancements program. )
The Orlando Sentinel reported yesterday that Rep. Mica wants to "siphon away" money for "bike paths":
"Millions of tax dollars set aside by law to build bike paths and sidewalks in Florida and elsewhere could be siphoned away for roads if U.S. Rep. John Mica and state transportation officials are successful in changing the rules…

He has the support of Ananth Presad, recently appointed by Gov. Rick Scott to be top administrator of the Florida Department of Transportation.

During a congressional hearing run by Mica in Maitland last month, Presad said, "We must give serious consideration to whether — when resources and dollars are at a premium — spending money on sidewalks, bike trails, beautification and other projects like this is the most prudent use of taxpayer money.""
Mica's comments have quickly raised the ire of the Rails to Trails Conservancy. In a blog post this morning, they wrote,
"It's time to get smarter about how we build our transportation infrastructure and move away from an outdated approach to transportation investment that can be best characterized as, "Drive, Baby, Drive!
With budget and fiscal concerns atop everyone's mind on Capitol Hill, preserving existing pots of funding set aside for bike projects will be the major focus of advocacy groups all summer. Stay tuned.
If you have questions or feedback about this site or my work, feel free to contact me at @jonathan_maus on Twitter, via email at maus.jonathan@gmail.com, or phone/text at 503-706-8804. Also, if you read and appreciate this site, please become a supporter.