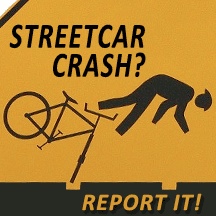 According to a 2008 report by Alta Planning, bike crashes on streetcar tracks are a "major and underreported problem for Portland-area bicyclists." Even so, the issue struggles to gain official attention because the vast majority of crashes do not get reported.
Portland-based, grassroots transportation advocacy group Active Right of Way (AROW) hopes to change that with their new, online Streetcar Crash Reporting form.
(Photo © J. Maus)
AROW volunteer (the group has no paid staff) Steve Bozzone was at our Get Together Wednesday night and shared a bit more about the project. Bozzone said the crash form is a "citizen's reporting mechanism" that's part of a campaign they launched back in December to fix existing bike/streetcar safety issues that exist with the new Eastside Streetcar Loop project (more on that effort later).
"Most crashes when a car is not involved don't get reported, they don't go into any dataset [the DMV only processes reports that involve a motor vehicle and where the amount of damage is valued at more than $1,500]. So we are trying to collect that information so we can present it in an organized way and show a compelling need for addressing these safety issues."
If you've crashed on streetcar tracks, help AROW keep track by visiting their website and filling out the form.