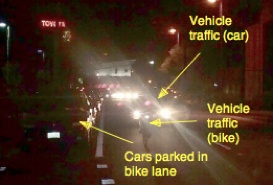 Photo taken last night on
N. Williams south of Hancock.
(Photo: Andrew N.)
What would help prevent people from parking cars in bike lanes?
The problem as I see it, isn't that people are simply jerks and don't care about blocking a lane of travel that is reserved for the use of non-motorized vehicles — it's more likely a lack of signage, enforcement of existing laws, and a general lack of awareness. To someone who doesn't ride a bike around town, a wide, curbside bike lane looks a lot like a convenient place to park.
There are two specific locations where this phenomenon is occurring in Portland that have recently come to my attention.
This lane blockage is close to a freeway
on-ramp, and the speed differential
between bicycles and motor vehicles is high.
(Photo © J. Maus)
The first one is on N. Rosa Parks Way in front of the New Seasons Market in Arbor Lodge. The parking lot there is notoriously small, and whenever the store is busy, people flagrantly violate Oregon state law (ORS 811.550) and park in the bike lane. They park directly adjacent to the lot and on surrounding block faces. I have documented this several times and have been in touch with New Seasons. They say they're working on the problem with PBOT, but I've yet to hear any resolution. I have never seen a City parking enforcement officer issuing tickets at this location.
The other location is on the popular N. Williams bikeway between Weidler and Hancock. This issue comes up during Trail Blazers home games (the arena being just a few blocks away). My hunch tells me that streetcar construction must have taken away some parking for the games, because I haven't heard or seen of this in the past. Regardless, it's happening now, and it's particularly dangerous given the speed differential between motor vehicles and bicycles on that stretch of road.
Reader Andrew N. sent in photos of massive parking-in-the-bike-lane violations during last night's Blazers game against the Sacramento Kings. Andrew said, "This set up an extremely dangerous situation for cyclists in an already chaotic atmosphere." He also reports that all the cars had been written tickets. In the photos below, take note of the person riding a bicycle in the lane adjacent to the curbside lane…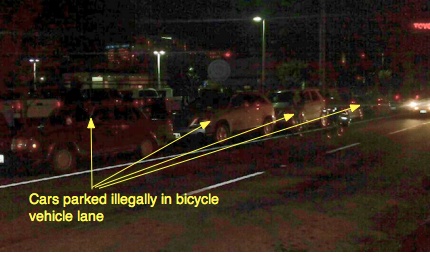 Look closely and you'll see two people bicycling in the lane adjacent to the parked cars.
I think one of the problems is that in both locations, there is no signage telling people that this curbside, painted lane is a place where vehicles travel. Perhaps PBOT could place a few of the bike lane characters on the pavement to reinforce the presence of a bikeway and/or perhaps we need some "No Parking" signs. Better yet, how about a few signs that say, "Bike Lane: Do Not Block. Vehicle Owners Will Be Towed"
Have you noticed other vehicle lanes in Portland where this occurs? What would you suggest as a solution to prevent it?
UPDATE: Thanks for all the helpful comments. I just heard from someone at PBOT, who pointed out the Parking Enforcement page on their website. Beyond improved signage, seems like the consensus is to get out your phone and call in violators.