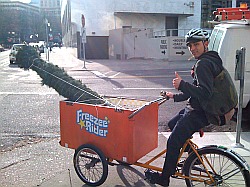 A 'Rider of Yule' sets off on a delivery.
(Photo: Trees By Bike)
Like coffee, beer, food, and fashion, you can now add trees to the list of things with a strong connection to bicycling in Portland. This holiday season, a local non-profit that plants trees and a budding business that delivers them will both put the power of bicycles to work.
Trees By Bike is a local company that delivers "pedal-powered holiday cheer". Powered by a collective of bike riders, the service allows you to order a tree online and then have it delivered to your door. The service was started last year by Portlander Max Kirchoff and he now has four other "Riders of Yule" working with him. Each rider donates 10% of the sale to a charity of their choice. New this year, Trees By Bike is also offering delivery of Hanukkah candles (until December 1st) for just $5 per box.
Max and the Riders of Yule will be at BikeCraft next weekend, signing people up for trees and selling ornaments made from recycled bike parts.
Loaded up and ready to plant.
(Photo: Toshio Suzuki)
Local non-profit Friends of Trees recently announced their plans for several bike tree planting events. There will be four plant-by-bike days this year and volunteers can sign up online. For more on the bike tree plantings, read this guest editorial written by volunteer planter Aaron Tarfman last year.
"By planting trees by bike, we actually create a negative carbon footprint," says the Friends of Trees website.