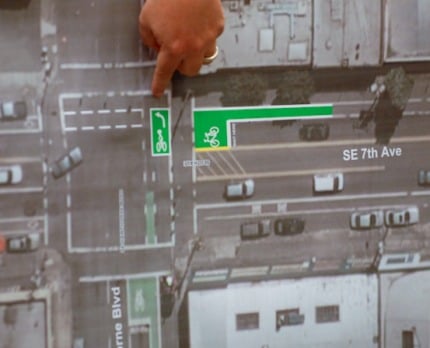 PBOT's plans for new bike box planned for SE 7th at Hawthorne
(Photos © J. Maus)
The City of Portland Bureau of Transportation (PBOT) has unveiled a list of locations for a second phase of bike box installations. PBOT traffic safety specialist Greg Raisman presented the list at tonight's Bicycle Advisory Committee meeting. In total, 14 new bike boxes are in the works.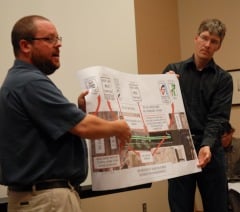 PBOT traffic safety specialist Greg
Raisman (L) at tonight's Bike Advisory
Committee.
Here's the list. Note that these are numbered by their "installation priority". The rationale for that priority follows each one (taken directly from PBOT):
NE Couch at Grand – Recent, major modifications resulting in large number of reports of right turn conflict.
SE Madison at SE Grand – Large amount of bicycle and bus traffic. Box part of 2 year old mitigation plan.
SE 26th at SE Powell (2 boxes planned) – Large number of reported crash activity that could benefit from a bike box.
SE 7th Ave at SE Hawthorne (NB) – Facilitate large number of bicycle left turns from eastbound to northbound.
SE 7th Ave at SE Madison (SB) – Large right turn demands, as well as through, from motor vehicles and bicycles. Motor vehicles encroach in westbound bike lane on Madison.
N Interstate at N. Tillamook (NB) – Large increase in right turning large trucks due to Water Bureau safety change relative to N. Wheeler.
SW Terwilliger at SW Capitol Hwy (SB) – Major bicycle connection to Southwest Portland. Right turn demand onto Capitol Hwy.
N Interstate at N Alberta (NB) – Significant right turn demand onto Alberta for motor vehicles, large number of straight movement for bicycle traffic.
SE Gladstone at SE Cesar Chavez (2 bike boxes planned) – Connection to 40s and SE Center bike boulevards 3 blocks east. Heavy turn demand onto Cesar Chavez.
N Willamette at N Portsmouth (WB) – High right turn demand across popular bike lane on Willamette. Lower priority due to higher cost capital needs necessitated by roadway width and a bus stop.
SE Lincoln at SE 39th (2 bike boxes planned) – Large numbers of through bicycles and turn demand from motor vehicles due to semi-diverter. May want to consider as a part of round three projects would treat signalized boulevard crossings.
In explaining their reasoning for installing more bike boxes, Raisman said, "Our observation is that they've contributed to a safer, more comfortable travel environment. It appears they're a good tool for us and we have more places where we think they can help." The City's case for bike boxes has gotten a boost from recent positive research findings.
The first two locations on the list will be installed by the end of October and the next seven will be installed by next spring. Stay tuned for more details on what's planned at each location.