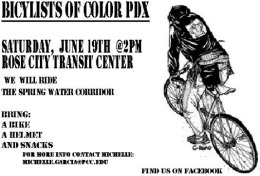 We've reported on a local non-profit's effort to break down Portland's biking color barrier, now there's a grassroots riding group with a similar mission.
On Saturday, Bicyclists of Color PDX will take their inaugural ride. The new group was formed by Michelle Garcia, a community college student and bike shop employee who moved to Portland from Oakland, California. After hearing about the group from a brief story in The Oregonian earlier this month, I emailed Garcia a few questions to find out more about the group and her motivations for starting it. Below is a Q & A we had via email.
Why do you think this group is necessary?
"I feel a group like this is greatly needed anywhere, especially Portland. I'm from the San Francisco Bay Area where people of color have a very strong presence and there's a small handful of groups like this that bring multi-cultural communities together through cycling. Portland's greater population is mostly white and people of color are scarce, kinda hidden in the outer communities of Portland with the exception of the Alberta District. Having a group like this brings the community together, providing a hate-free atmosphere and at the same time creating a safe outlet for teens and also creating and encouraging sustainability."
Have you felt intimidated from going on group rides because they lacked a significant amount of people of color?
"I as well as other members and people of color have felt a sense of intimidation and and the feeling of being out of place with other groups. Because people of color have different experiences with life, culture and class it is difficult to relate to members of certain groups that are predominately white and who ride nice bikes (not a $15 ten speed or Wal-Mart bikes). These groups also tend to be very competitive. Bicyclists Of Color rides at a very mild pace and welcomes riders of all experiences and we LOVE to take breaks."
What has been the response to your group so far?
"Portland has responded very well, with support from bike shops like the Community Cycling Center and City Bikes Co-Op we've been able to grow. We currently have twenty riders. We recently had write up The Oregonian after that article our Facebook profile got a lot of attention. However, there were a few negative comments on the online article by confused readers that were under the impression that Bicyclists Of Color is only for people of color, however we welcome anyone who encourages folks of color in becoming a positive influence in the community. Bicyclists of Color Doesn't discriminate against ANYONE. We welcome anyone regardless of class, race, religion, gender, gender identity, sexuality and age. I would also like to add that a great portion of our riders are white."
You can join Michelle and others for their first ride this Saturday, June 19th. They'll meet at the Rose City Transit Center at 2:00 pm and ride to the Springwater Corridor. For more information, check out their group page on Facebook.