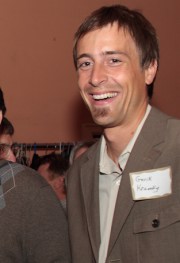 Gerik Kransky
(Photo:
OLCV
)
The Portland-based Bicycle Transportation Alliance (BTA) has hired Gerik Kransky to be their new Advocacy Campaign Manager. Kransky, age 30, was previously outreach director for the non-profit land use group 1000 Friends of Oregon and has also worked with SOLV and the Oregon Chapter of the Sierra Club.
Back in October, Kransky was given a "Best Supporting Activist Award" by the Bus Project for his work with 1000 Friends. I asked him this morning how his previous experiences might serve him in the trenches of bike advocacy:

"Over the last year, working on the Jobs and Transportation Act (H.B. 2001, the big transportation bill passed by the legislature last year], I saw a lot of the challenges that the bike advocacy community faces in terms of funding — so that's the perspective I'm bringing today… In terms of experience, I'm definitely excited to find new ways to open up revenue streams to build the kind of infrastructure we're looking to build here in Portland."
Kransky says his focus will be on Portland-area advocacy issues (a recent survey by the BTA showed that 74% of BTA members joined for "Portland-Metro area advocacy"). His top priority right now is the Build It campaign. "With all guns pointed at the Portland Bicycle Plan for 2030, I'll be trying to come with creative ways to keep the bike population engaged after Thursday [when the plan is adopted by City Council], and make sure they implement it."
Read more about Kransky on his first post to the BTA Blog.