Posted by Jonathan Maus (Publisher/Editor) on October 27th, 2009 at 12:13 pm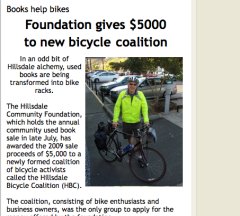 Hillsdale Bicycle Coalition in the news.
From the Hillsdale News comes word of the Hillsdale Bicycle Coalition (HBC), a fledgling bike advocacy group that is already working on its first project.
According to the story, the group was formed to go after a $5,000 grant created through proceeds of a community book sale. They got the grant and now they're already working to build "visible, accessible and convenient" bike racks.
The first rack they plan to install — slated for installation in March — will go in front of Food Front and Baker & Spice on SW Capitol Highway in Hillsdale. But that's just the start, HBC co-founder Dave Johnson has sights set on lots more:
From the Hillsdale News:
"Johnson said the group has indentified five sites in the Hillsdale Town center. The cost of the full bike rack program could exceed $20,000. The other four sites are at the Capitol Highway entrance to the complex housing OmBase Yoga, at the north entrance to the Farmers Market (where the racks would be movable for the market), near Noah's Bagels and near Salvador Molly's and the Hillsdale Brew Pub."
Also according to the article, HBC already has 18 members made up of business owners and bike enthusiasts and they're getting "support and advice" from the City of Portland's Bureau of Transportation.