Posted by Jonathan Maus (Publisher/Editor) on March 10th, 2008 at 10:50 am
Kona Bicycles' latest model is named after local off-road racing hero and co-owner of Sellwood Cycle Repair Erik Tonkin.
---
Kona's new "Honky Tonk".
Calling it "a model made specifically for the Portland community," Erik Tonkin says the new "Honky Tonk" frameset offered by Kona Bicycles is the result of his request for an inexpensive, around-town commuter frame that his customers could build up any way they'd like.

"I think it marks the high-point — or low-point, depending on your perspective — of my career."
–Erik "Honky Tonk" Tonkin
Tonkin, a former U.S. World Championship Cyclocross Team member and co-owner of Sellwood Cycle Repair, says he told Kona's product manager that his main requirement was a frame available separately for between $300-350. Other features he encouraged them to include were an all chromoly-steel frame and fork, standard road geometry, clearance for large tires, down-tube shifter bosses ("for that inexpensive, old-school option"), and fender and rear rack braze-ons.
Tonkin plans to sell them as framesets and wants to encourage customers to, "have a hand in building them up." He adds, "The idea is to make it your own, and do it within whatever budget you've got." He says they can build them into complete bikes for anywhere from $675 to $1,275 (using new and/or used parts).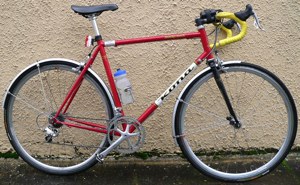 A Honky Tonk all dressed up.
(Photo: Sellwood Cycle Repair)
Tonkin says having the frame available separately is important; "Most companies only make their top-of-line, flagship models available as framesets, so they're just too expensive for the consumer to buy and then build into a complete bike."
As for the name, Tonkin swears he had no say in it. "They simply told me they were naming it for me because it was my idea and I helped design it. At first," he says, "'Honky Tonkin' was floated as an idea, but they toned it down."
Kona plans to offer the Honky Tonk as a complete bike in their standard line-up in 2009. It is currently available as a frameset (with headset) only. See more about the bike here.
You can check out the Honky Tonk, and maybe even get Erik to autograph one for you at Sellwood Cycle Repair (7639 SE Milwaukie Ave.).