Posted by Jonathan Maus (Publisher/Editor) on June 4th, 2007 at 4:07 pm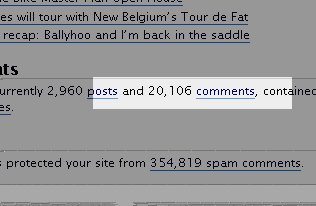 Screenshot from the admin
panel of my blog program.
I've been watching my comment counter creep up to 20,000 the last few weeks and as I write this is already up to 20,106!
It took about 15 months to reach 10,000 comments and less than half that to reach 20,000.

People always ask me if I read every one of them. The answer is yes, I do. I read and/or at least scan each and every one of them. I take comments very seriously and reading them every day is a treasured part of my job. I feel they are one of the most important parts of this site.
And while some folks have trouble playing nice and staying on-topic, I'm amazed at how few problems I've had. I've never banned anyone and I've only deleted and/or censored comments on a few rare occasions.
I am grateful for all of your contributions and insights. Your feedback is a rich and valuable resource to me and the community.
Thank you…and keep it coming!
(If you have questions or feedback about how I deal with comments, feel free to ask below.)