Posted by Jonathan Maus (Publisher/Editor) on November 1st, 2005 at 12:01 am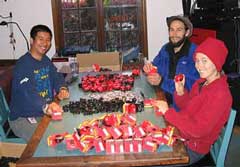 Thanks to grants from The Community Cycling Center and ODOT, Shift volunteers (seen here assembling lights) installed 191 free headlights and tailights on bikes in Portland this past summer. The $1600 grant was matched with $629 in donations.
With a generous discount from Planet Bike, Shift gave away $6494 worth of lights. Here's a quote from the man behind it all, Jeff Bernards:

"The lights helps keep a positive & safe image of cycling as a practical alternative to driving everywhere…Making cycling visible (with lights), will only encourage its acceptance by a greater part of the population."
This program has gone so well that Portland Police will soon be passing out free lights to cyclists too.
Great work Jeff, hope to see this program continue next year.
(Photo courtesy of Jeff Bernards)