Posted by Jonathan Maus (Publisher/Editor) on November 1st, 2005 at 10:48 pm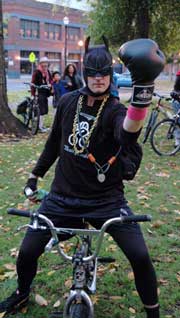 Regardless of your feelings about Portland's Critical Mass, I think this report on Friday's ride by Elly Blue captures something really special:
Glorious!

105 riders in the third block, including cops on bikes and one dog, all sharing the road.

A good fastish ride around on the east side. Bike lifts, bike loops, chanting, camaraderie. Amazing costumes–props to all of your creative madness!

Everyone, in uniform or costume, having fun and bopping around to the music coming from at least two bike-mounted sound systems. Yeeaaaa! Thanks again to the people who stopped to help fix flats. We passed the cops on their way home in a mini-mass down MLK, and they had a happy post-party glow about them. Fun and good times for all in NE and then…

The definitive event of the night was swooping down the ridge from Party One to Party Two, all madcap haywire, OWNING the road.

And ending with dancing and wine, great music, great vibe.

Can we do it again next month?

Keep on rolling,
Elly
Thanks to Christopher Layton for the great photo. Check out his entire gallery for more.