Posted by Jonathan Maus (Publisher/Editor) on October 31st, 2005 at 2:13 pm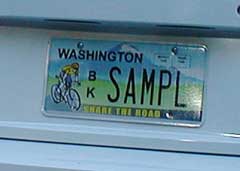 Our neighbors to the north will soon be able to purchase a "Share the Road" license plate. The plate will be available January 3, 2006 and is part of a bill pushed through the legislature by the Bicycle Alliance of Washington.
$28 from the initial and annual plate renewal fees will go directly to bike safety programs.
That sounds like a nice chunk of change. I wonder if this is something the BTA would get behind?
(Hat tip to Biking' Bis)