Posted by Jonathan Maus (Publisher/Editor) on October 18th, 2005 at 12:46 pm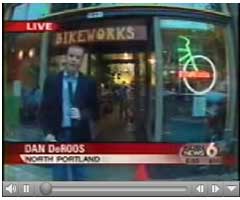 North Portland BikeWorks, a non-profit bike shop on Mississippi Street, got some prime TV coverage on Sunday night. In case you missed my previous post, they're fixing up bikes for Katrina victims and spreading bike love to those in need.
A faithful reader and fellow blogger, Wise Old Bicycle Guy was kind enough to send me a link to the video. It features a nice interview with Kim Fey, Co-Executive Director of the shop.