Wednesday, August 21st, 2013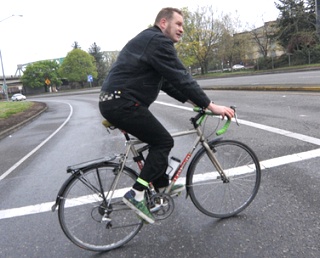 Because we can never get enough of hearing about how people get their stolen bikes back, we present you two more stories of stolen bike recovery success.
But before getting into some good news, we have some not-so-good news about our Stolen Bike Listings. Due to a software issue that's causing duplicate postings, I've decided to disable the listings until we can get it fixed. Sorry about that. Now, back to our regularly scheduled programming...
Our first story comes from Vancouver resident Branden Shelby. You might recall that Branden was the subject of one of our Ride Alongs back in April. A few months after our story, the same bike he rode with me that morning, a LeMond Poprad, was stolen from his side yard. Branden had put a lot of love into his bike, upgrading it over the years with a green Brooks saddle, green BMX pedals, and other nice touches. Unfortunately, he posted it to our Stolen Bike Listings on July 23rd with a $100 reward. (more...)