Friday, November 22nd, 2013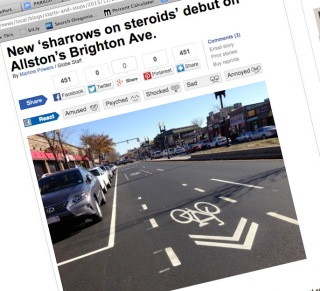 This is your bike infrastructure on drugs.
(Screenshot from Boston Globe)
The latest twist in America's effort to retrofit our auto-oriented infrastructure so that it's suitable for cycling comes from Boston. That city hs deployed what's being called "super sharrows" or "sharrows on steroids." Here's a blurb about them from a story published in the Boston Globe on Wednesday:
I first noticed the markings last week while driving through Allston Village. Running down the right-hand lanes on both sides of Brighton Avenue are bike-priority icons, known as "sharrows" in cyclist parlance, hugged by two sets of dashed lines along either side that make the lane look more like an airport runway.

My first thought: Sharrows on steroids!

And Boston bike czar Nicole Freedman said that's exactly what they are. (Well, except that the former Olympic cyclist wasn't too happy about the doping analogy.) Officially, the markings have a more dignified name: Priority shared-lane markings.