Friday, February 14th, 2014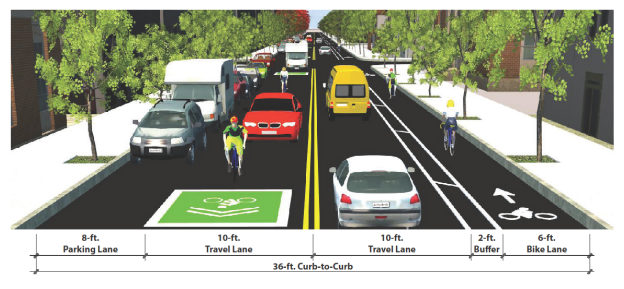 One shared lane and one buffered bike lane is probably the most bike-friendly option the city will accept between I-84 and Stark, Project Manager Rich Newlands said Tuesday.
An "optimal" facility with buffered bike lanes in both directions, but no auto parking on 28th Avenue through its busiest commercial district, probably isn't in the cards for the 20s Bikeway, a city project manager said this week.
The most comfortable biking plan "achievable," city project manager Rich Newlands said in a presentation Tuesday to Portland's Bicycle Advisory Committee, is a design that hasn't been seen before in Portland or almost anywhere else: a shared lane in one direction, marked by green-backed sharrow stencils, with a buffered bike lane in the other direction.