by Michael Andersen (News Editor) on April 7th, 2015 at 8:39 am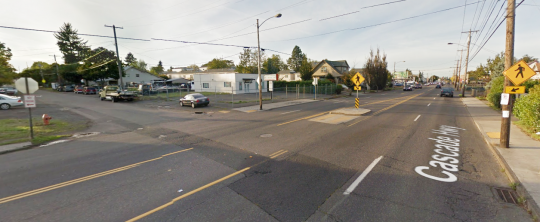 The enforcement action was one of the few that the city has conducted at unmarked crosswalks.
(Image: Google Street View)
In Oregon and Washington as in many states, every corner is a legal crosswalk, and all vehicles are supposed to stop for someone trying to use it.
But good luck getting people to stop for you at corners like Southeast 82nd Avenue and Cooper Street.
A preannounced police enforcement action at the crosswalk on March 25 resulted in 61 citations and four warnings, the most ever issued during one of Portland's periodic crosswalk enforcement events.