by Michael Andersen (News Editor) on March 2nd, 2016 at 8:27 am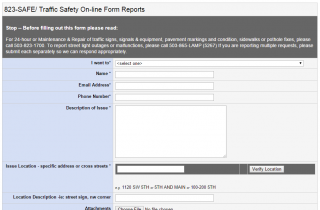 There's now a keyboard-ready alternative to the Portland Bureau of Transportation's excellent 823-SAFE hotline.
The city's hotline has a great reputation among those in the know, who use it for things as diverse as a poorly timed traffic signal or a low-hanging branch. Even on issues that can't be fixed immediately, a history of reports about a given location can alert city staffers to a bigger project worth tackling.
The phone hotline has been around for over a decade (at least), and many people also use the safe@portlandoregon.gov email version. Now the City of Portland offers a web-based version.