Thursday, January 3rd, 2013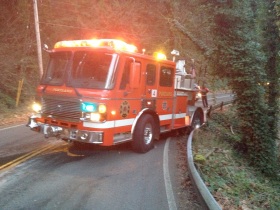 A Portland Fire & Rescue truck slid on ice
on Sam Jackson Park Road yesterday.
(Photo: PF&R)
A man crashed while bicycling downhill on SW Sam Jackson Park Road yesterday. Then, when Portland Fire & Rescue responded to the crash, their fire truck slid on the ice and smashed into a guard rail.
According to Portland Fire & Rescue, the crash happened during yesterday's morning commute. When they arrived, the man who crashed his bike was up and walking around. Here's more from PF&R about the conditions that led to the crashes:
"The ice was reportedly caused when the drainage along the side of the road became blocked with leaves. This caused water to flow over the roadway and subsequently the cold weather created ice."