Thursday, January 22nd, 2015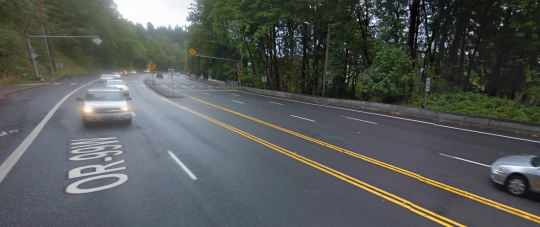 Typical midday traffic approaching a curve in Barbur Boulevard from the south.
(Image:
Google Street View
.)
During a construction project last summer, the Oregon Department of Transportation seems to have discovered that there's a way to cut extreme speeding on a curving two-mile stretch of Southwest Barbur Boulevard where six people have died in the last five years.
Was it closing the passing lanes? Lowering the posted speed limit from 45 to 35 mph? Upping traffic enforcement and penalties? Simply marking it as a construction zone?
The agency did all of those things at once, so it isn't sure which one worked, and it currently has no plans to find out.
Meanwhile, the state-owned street has returned to normal indefinitely.