Wednesday, July 1st, 2015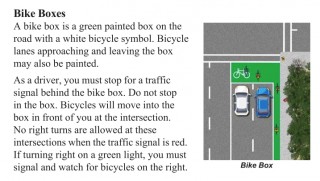 Detail of Oregon Driver's Manual.
We didn't either.
Neither did Ray Thomas, the man who literally wrote the book on Oregon bike law (and has personally written and/or lobbied for many of them). Neither did Rob Sadowsky, the executive director of the largest bicycle advocacy organization in the state, or Noel Mickelberry, the leader of Oregon Walks.
"It caught us totally off guard," Sadowsky shared with me this morning, "And it points to a lack of collaboration."
This is a big deal because the 84-page Oregon Driver's Manual impacts how people learn to behave on the road. It's probably the one source of traffic law nearly every driver has consulted at least once and it's used in court to justify behaviors both right and wrong. Making sure the driver's manual presents information accurately and from a variety of perspectives — especially the most vulnerable road users — is a key component of the gradual march toward Vision Zero. (more…)