Thursday, September 4th, 2014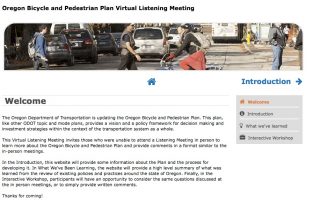 Screenshot of virual meeting page.
As we reported last month, the Oregon Department of Transportation is holding "listening sessions" throughout the state to gather input for a major update to their Bicycle and Pedestrian Modal Plan.
Unfortunately there are only five meetings total, just one in the Portland area, and they're all held during business hours. If you want to share input but can't make it to one of the meetings, ODOT has launched a website that lets you do so completely online.
ODOT says the Virtual Listening Meeting is the next best thing to showing up in person. (more…)