Thursday, November 19th, 2009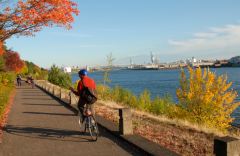 Riding along the river on what
should be a fully connected and
developed trail.
(Photo © J. Maus)
The North Portland Greenway Trail is on the cover of the "InPortland" section of The Oregonian today. The exposure for the project is an important boost to the project -- whose backers need more political support to make it a reality.
The story lays out how the trail has made some small steps of progress, but that its actual construction is still far off (the advocacy effort behind the trail is already four years old):
"Even its lead advocate, however, sets 10 years as an optimistic timetable for the Greenway to receive funding and be fully constructed."