by Michael Andersen (News Editor) on April 17th, 2014 at 9:08 am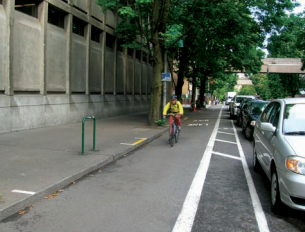 The parking-protected bike lane near Portland
State University, from page 1-30 of ODOT's
Bicycle and Pedestrian Design Guide.
On Monday, we highlighted a few bike ideas from around the country that Oregon might imitate, but so far hasn't. One of them: formally endorsing the National Association of City Transportation Officials design guides.
But Jessica Horning, the transit and active transportation liaison for the Oregon Department of Transportation's Region 1 (which contains the Portland metro area) replied to our question about this with a fair argument: Oregon's in-house design guide is already really good.
Developed by practitioners in Portland and other cities around the country, the NACTO guides are a sort of professional Pinterest for human-friendly street designs such as protected bike lanes and traffic diverters. Images are well-annotated and informed by extensive research about safety and performance.