Friday, January 10th, 2014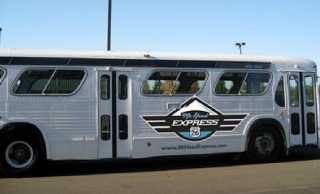 Come aboard (with your bike),
they're expecting you.
The City of Sandy and the Mt. Hood area are in the midst of a transportation revolution and bicycling is playing a major role.
Thanks to the huge success of the Sandy Ridge Trail System, the burgeoning popularity of adventure road riding, and bicycle tourism efforts, cycling has reached a tipping point. The excitement around cycling has spurred investment and attention from government officials, inspired a new bike advocacy group, and has had an economic impact on area businesses. Add to that the Oregon Department of Transportation's ongoing work on the Mt. Hood Multimodal Transportation Plan and you've got the ingredients for change.
Two developments we're keeping tabs on in this area are the launch of a new, bike-friendly bus service along Highway 26 and the growing energy around the Mt. Hood Bicycle and Pedestrian Coalition. (more…)