Wednesday, March 27th, 2013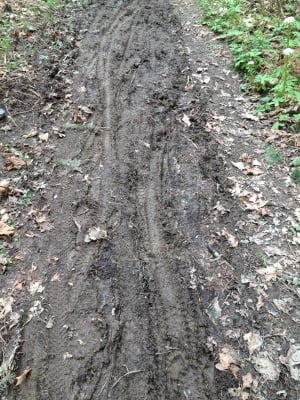 Photo by Marcy Houle sent to Mayor Hales
and other City Council members. It shows bike tires
in the mud on what she says is Wildwood Trail.
As we shared last month, the debate over improving bicycle access in Forest Park seems to be heating up once again.
On March 14th, Marcy Houle, an activist and author of One City's Wilderness: Portland's Forest Park who has been very outspoken in opposition to bicycling in the park, emailed Mayor Charlie Hales and the rest of City Council urging them to do something about people who ride illegally on Wildwood Trail.
Houle's email (sent on March 14th) focused on the Wildwood Trail, which she describes as being, "arguably the most pristine, natural, and heralded city park hiking trail in the United States." Houle shared photos she says show damage to the trail from bicycle tires and she called on the Mayor, City Council members, and Parks Director Mike Abbate to stop the "criminal activity." (more...)