by Michael Andersen (News Editor) on May 5th, 2015 at 2:34 pm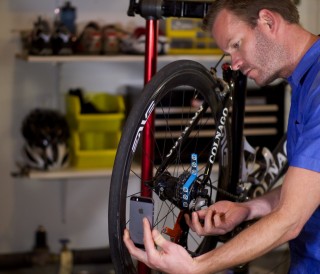 The smartphone camera uses the targets on the
gauges to create 3-D models of your gearing.
(Photos courtesy OTTO DesignWorks)
The rising tide of products that combine physical objects with mobile apps has come to do-it-yourself bike maintenance.
OTTO DesignWorks, a startup based a few miles south of Portland in Wilsonville, says its first product will offer "perfect shifting in under five minutes" for people with Shimano and SRAM 9-, 10- and 11-speed gear cassettes.
As the video below shows, the company sells gauges that can be attached to a cassette and derailleur. Its free mobile app then uses a smartphone camera and photogrammatry — the mathematically intensive process of turning images into three-dimensional modeling — to diagnose the situation and walk someone through the tuning process.