Wednesday, May 22nd, 2013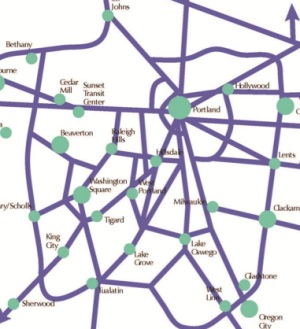 The "spiderweb" of Regional Bicycle Parkways
as envisioned in Metro's plan.
Metro will host an open house tomorrow (5/23) for their Regional Active Transportation Plan. The plan will be the region's first specifically tailored to bicycling, walking and access to transit. The planning effort has been underway for well over a year and is set to wrap up by the end of next month. In summer of 2014 the plan's recommendations and a list of prioritized projects will be proposed for adoptions into the Regional Transportation Plan.
The plan's ambitious scope includes: the creation of a new set of design guidelines for bicycle facilities; an update to regional biking and walking maps; integration of the existing active transportation network; identification of a network of 'Regional Bicycle Parkways'; a recommendation of strategies for implementation, and more.
In other words, this is a big deal. As its projects get adopted into the RTP, Metro's Regional Active Transportation Plan will give regional policymakers the crucial political breathing room and decision-making framework they need to make real and significant investments that could vastly improve bicycling conditions.
(more...)