Wednesday, April 22nd, 2015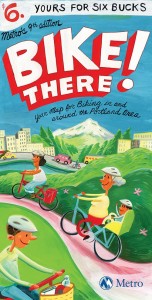 Cover of the new map.
The definitive regional bike map has been updated with lots of new routes and a significant price cut.
Metro's Bike There! map, published since 1982, will release its ninth edition next month in the first update since 2010. There's a lot to keep up with: the number of mapped bike routes in the Oregon side of the Portland metro area has shot up 71 percent since 2010.
The current bike map shows 675 miles of on-street routes and 234 miles of off-street paths. For the new one, it'll be 1,008 miles of on-street routes and 550 of off-street.
Also added to the new edition of the map, according to Metro (our regional government): "popular recreational off-road destinations where [users] can enjoy the area's natural beauty."
(more…)