Thursday, June 19th, 2014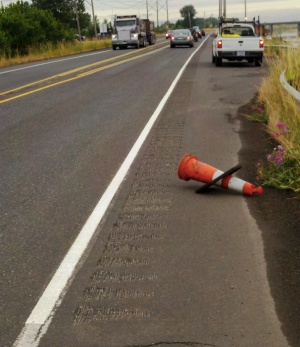 A reader sent in this photo of the method used
by a PBOT contractor to warn people about
the dangerous and incorrectly installed
rumble strips on Marine Drive.
PBOT's effort to implement safety upgrades on Marine Drive as part of their High Crash Corridor program took a bit of a detour last week when one of their contractors incorrectly installed rumble strips in the bike lane near NE 122nd Ave. The grooves in the pavement have created dangerous bicycling conditions and have sparked major concerns from road users.
Because the of the incorrect installation and location of the grooves, the usable biking space has been cut in half (creating a space so narrow that it falls below even FHWA standards). And when you are forced to roll over them, the impact is so jarring it could lead to crashes, swerving, equipment failure, and so on.
Thankfully, PBOT admitted the error and they're working to make things right.
(more…)