Friday, October 25th, 2013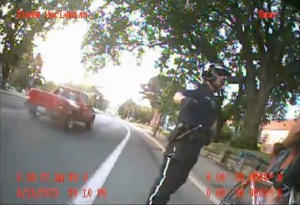 Still from police video of traffic stop.
Just after 6:00 pm on August 15th, 35-year-old Medford resident Dallas Smith was riding in the bike lane on Main Street in Ashland when he was pulled over by Ashland police officer Steve MacLennan. The offense? Officer MacLennan claimed that Smith was riding his bicycle outside of the bike lane.
"Why are riding on the white line and actually going over into the traffic lane when you have a bike lane here?" the officer asked Smith as he approached him during the traffic stop. When Smith replied that he was avoiding glass and other debris near the curb, which often gives him flats, Ofc. MacLennan dismissively replied. "Nope. No, that doesn't cut it."
After issuing the $110 citation, Ofc. MacLennan repeated to Smith that there wasn't a sufficient amount of debris in the lane to warrant him riding several feet to the left of the curb. As he rode away, Smith asked the officer, "What am I supposed to do up here where there is no bike lane?" "You better ride off to the right then," Ofc. MacLennan replied.
(more...)