Wednesday, January 21st, 2015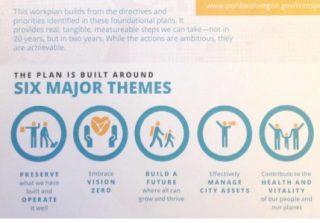 Detail from PBOT workplan summary.
Yesterday, we quoted the City of Portland's transportation director about two of her most important policy goals for 2015. But her third goal for the year is far broader: to give the department, for the first time in years, a specific short-term to-do list.
The 170-item list, prepared with the help of consulting firm Nelson\Nygaard, aspires to cover everything the city's 700-person transportation bureau is up to in the next two years.