Monday, August 25th, 2014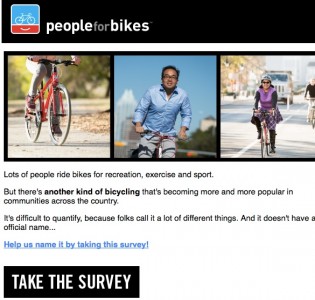 People for Bikes, a national advocacy group funded by the bicycle industry, wants to change cycling in America by coming up with a new name for it. Specifically, the group wants help figuring out what to call everyday cycling in order to differentiate it from recreation and fitness riding.
Here's the set-up from People for Bikes via an email they sent out today:
"Lots of people ride bikes for recreation, exercise and sport. But there's another kind of bicycling that's becoming more and more popular in communities across the country. It's difficult to quantify, because folks call it a lot of different things. And it doesn't have an official name…

Imagine you're rolling out on your bike right from your garage—no spandex involved, you're wearing normal, everyday clothes.