Thursday, February 6th, 2014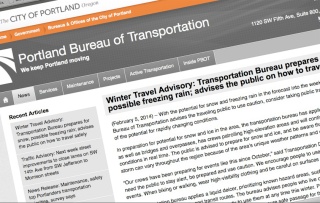 Are all road users equally served by traffic advisories?
We think the words people use say a lot about their perspectives and priorities. That's why I always enjoy reading traffic advisories and press releases from our local transportation agencies.
When it comes to severe weather warnings, I have communicated directly with both the Portland Bureau of Transportation (PBOT) and the Oregon Department of Transportation (ODOT) that their statements should not ignore the fact that many people in this region ride bicycles in winter. Yes, even when it snows and rains.
So, with this week's big snowstorm on its way, I sat back and waited to see how each agency would handle the inevitable bad weather road advisories. I'm happy to report, that while not perfect, both agencies have improved a lot in recent years! Let's start with ODOT…
(more…)