by Jonathan Maus ( Publisher/Editor ) on July 18th, 2012 at 2:08 pm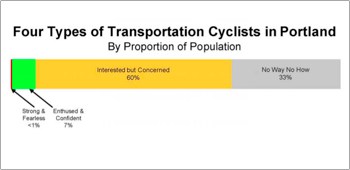 Roger Geller's chart that started it all.
It's been six-and-a-half years since Portland Bureau of Transportation bicycle coordinator Roger Geller first defined the "Four types of cyclists". Geller's insights proved to be groundbreaking and his definitions have stood the test of time. I frequently hear references about the need to attract more "Interested but concerned" riders at conferences all over the country and I read about them in articles in media large and small.
Now a noted bicycle researcher at Portland State University, Jennifer Dill, is working to learn more about the various types of riders. At the recent Velo-City conference in Vancouver B.C., she shared her research, Categorizing Cyclists: What Do We Know? Insights from Portland, OR (PDF). Now her work has been made public.
(more…)