Wednesday, December 18th, 2013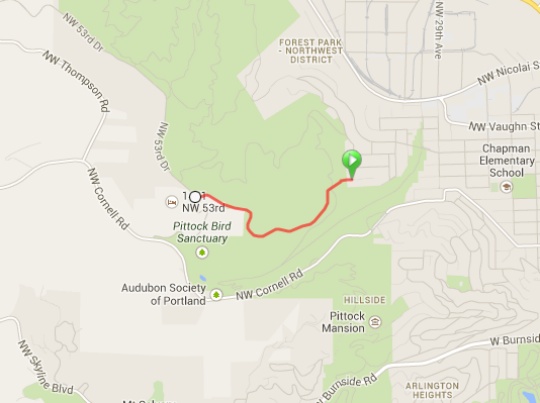 Holman Lane (red line) in relation to northwest Portland (to the right), Forest Park (shaded green), NW Cornell Rd (at the bottom) and Skyline Blvd (bottom left).
(Graphic:
RideWithGPS
)
Holman Lane is an unpaved fire lane in Forest Park. It winds uphill from northwest Portland almost a mile and nearly 500 feet in elevation from the corner of NW Aspen and Raleigh (map) before it meets with the quiet and tree-lined NW 53rd Avenue. Holman is open for cycling, and for those who know about it, provides a beautiful and safe connection between downtown and the West Hills, Skyline Boulevard, and points beyond.
But there's an important detail about Holman Lane: bicycling is permitted only in the uphill direction. That's too bad for people like Mike Owen, a Portlander who recently discovered Holman's charms and utility.
(more…)