Friday, June 20th, 2014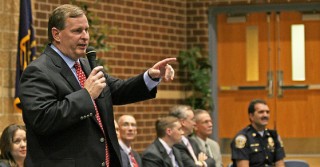 Indianapolis Mayor Greg Ballard.
(Photo by
Rob Annis
)
Though the flow of gawkers from other city governments to Portland may have ebbed a bit, our city still draws its share of leaders from around the country to see our streets in action.
But next month, Cycle Oregon is turning that tradition on its head: at the suggestion of Portland Bicycle Planning Coordinator Roger Geller, it's bringing the mayor of Indianapolis on its 10th annual Policymakers' Ride (a.k.a. the Visionary Voyage), so one of the country's bike-friendliest mayors can offer insights to his counterparts here in Portland.