Friday, February 8th, 2013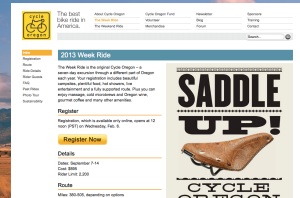 Register! Just not all at once.
The servers handling registration for the 2013 Cycle Oregon ride collapsed shortly after people started signing up on Wednesday. Now the organization is still digging out of the snafu and they hope to have everything cleaned up by Monday.
Cycle Oregon went to online-only registration in 2012 and people clamored to sign up. They filled a record 2,000 spots in just 31 minutes. With that in mind, people wanted to make sure they didn't get left out. Cycle Oregon used a new registration vendor this year (PreRace.com), and it seems they couldn't handle the ride's popularity.