Monday, August 19th, 2013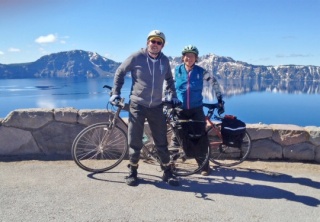 Reader Sally Hunt and a friend took
full advantage of a carfree Rim Drive
back in June.
After the resounding success of its first-ever carfree weekend this past June, Crater Lake officials now plan to make it an annual event. And, as a bonus, they'll host another carfree weekend next month.
Travel Oregon is set to announce tomorrow morning that Crater Lake National Park will hold another carfree weekend on September 21st and 22nd this year and that, "Going forward, the third weekend in September will be preserved for non-motorized enjoyment of the park."
(more...)