Wednesday, March 5th, 2014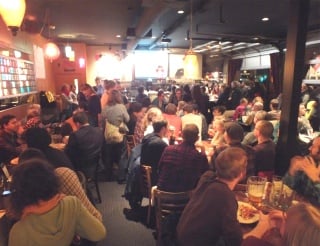 It was a packed out for the 2nd annual
Transportation trivia night packed the Radio Room last spring.
(Photo: Mary Nichols)
Two years ago, Portland's biking-for-everyone advocacy group/bike shop decided to try a new kind of fundraiser: a transportation-themed bar trivia night at the nearby Radio Room pub.
Price: $10 per player, including a pint of Hopworks beer.
It turned out to be a pretty good idea. By the second installment, it seemed as if every transportation wonk in the city (including the mayor and his wife, whose team didn't win) was turning out for the fun. After three packed events at Radio Room, the Community Cycling Center will expand the event this month to the 700-capacity atrium of City Hall.