by Michael Andersen (News Editor) on May 15th, 2015 at 9:51 am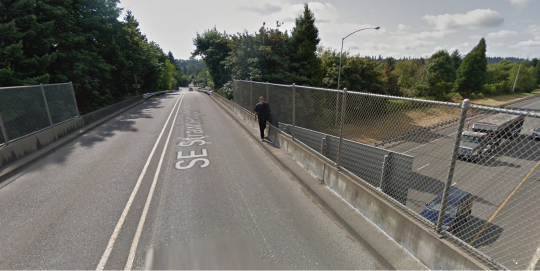 The overpass is being raised so that large-load trucks can drive under it rather than detouring onto Strawberry Lane.
(Images:
Google Street View
)
Despite receiving a dozen public requests to add sidewalks to an overpass it's planning to raise by 18 inches, the Oregon Department of Transportation says there's no room for them in the $3 million project.
Instead, ODOT will add a five-foot-wide striped walking and biking lane on the bridge's eastbound side. The road-level lane will be marked with a pedestrian symbol.
The Strawberry Lane bridge south of Clackamas is the only crossing of Interstate 205 for one mile in each direction.
As reported Wednesday by the Clackamas Review, the purpose of the project is to raise the overpass enough to prevent most large-load trucks from having to detour onto Strawberry Lane in order to avoid the relatively low bridge.