Tuesday, February 11th, 2014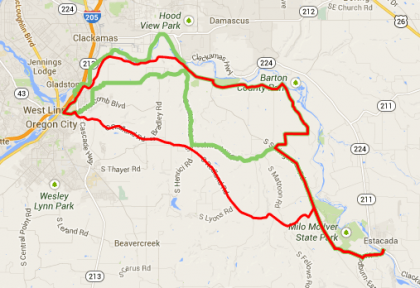 A map of possible routes along the Clackamas River.
"Principal" proposed routes are in red and "alternative"
routes in green. See below for more maps.
A two-week virtual open house launched Monday to give people who bike and walk in Clackamas County a chance to share their expertise and opinions on the best routes for the county to improve.
It's part of the county's year-long Active Transportation Plan, an effort to improve healthy mobility, access, safety, and tourism in the county on the south side of the metro area.
For the new virtual open house, much of the focus is on a series of possible walking and biking routes that have been selected from many submitted earlier in the process.