by Jonathan Maus (Publisher/Editor) on October 6th, 2015 at 11:02 am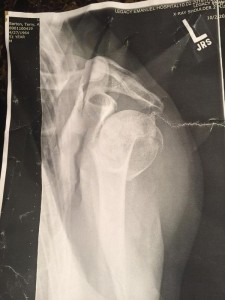 Terry Barton's broken shoulder.
We've been following the Broadway Bridge re-painting project since the first complaints about it started coming in back in August.
The biking and walking pathways have been dramatically narrowed to make room for construction scaffolding. Despite flaggers on both ends to ferry users through, we've been worried that someone would get hurt. Now we've heard about the first (to our knowledge) serious injury caused by this narrow riding environment.
Portlander Terry Barton contacted us yesterday with the bad news: He suffered a broken shoulder on Friday afternoon after a crash caused by trying to navigate through the construction zone. Barton told us he's been riding through the "mess" since it started and that he's had several close calls with people both walking and biking. On Friday he was headed downtown when he miscommunicated intentions with someone walking toward him in the narrowed portion of the path. "I clipped him and then flew over my handlebars," Barton shared with us.
(more…)