Wednesday, May 29th, 2013
Alta Bicycle Share principal Mia Birk explains
Portland's future system to possible sponsors
(Photo © J. Maus/BikePortland)
The Portland-based company that leads the nation in bikesharing just enjoyed its biggest launch yet, kicking off a 6,000-bike deal worth tens of millions of dollars over the next few years. And for Alta Bicycle Share, 2013 is only going to get more interesting.
Alta's system is planning to launch in Chicago in "late summer." San Francisco and the Bay Area are slated to join Alta's empire in August with 350 bikes, and Columbus will get a 300-bike fleet in July. Alta already operates systems in Washington, Boston, and now New York City, meaning the company's municipal bikeshare systems will be in five of the country's 10 biggest metro areas by year's end. Waiting in Alta's wings: Vancouver BC, Seattle, and of course Portland. (Atlanta and Philadelphia, two more top-10 metro areas, seem to be on their way to bikesharing, too, and Alta will be a strong contender.)
This sort of growth is huge for a company that's less than four years old -- and also risky for a company that just lost a top executive to a possible competitor and has had to weather serious technical delays and complicated labor issues in the middle of its rapid expansion.
So I decided to talk to two national bikesharing experts about Portland's locally-grown industry leader and the future of bikesharing in general. The two were Matt Christensen, managing editor of Bikeshare.com, a Santa Monica-based website that posts jobs and other news about the bikesharing industry; and Paul DeMaio, founder of DC-based bikeshare consulting firm MetroBike LLC, who's been publishing The Bike-sharing Blog for six years now.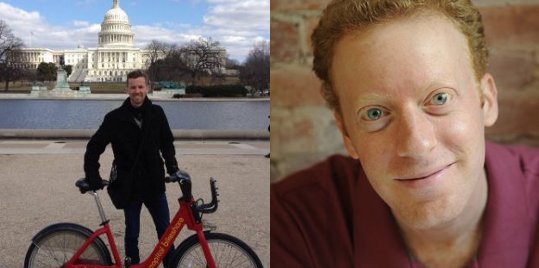 Bikeshare.com's Matt Christensen and MetroBike LLC's Paul DeMaio.
Both of these guys were thoughtful, frank and upbeat in their assessment of where Alta and the concept of bikesharing are headed. The questions and answers below have been combined from separate interviews that covered many of the same subjects.