Monday, April 14th, 2014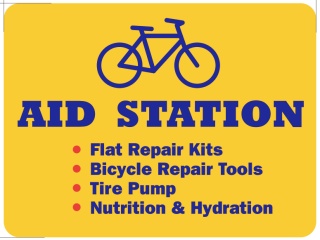 New window decal coming to Plaid Pantry stores.
Convenience store chain Plaid Pantry has announced their latest effort to become more appealing to customers who arrive by bike: Bicycle aid stations.
According to Administrative Manager Laura Sadowski, the new aid stations will be available at all 104 Oregon stores and will consist of a flat repair kit, basic bike tools, and a floor pump. The aid kit will be kept behind the counter, so you'll have to ask a store employee to use it. "As the weather is improving, I am seeing more bikes on the road," said Sadowski via email. "Not everyone is prepared for a flat or adequate nutrition and fluids, so we want to be there on (mostly) every corner to 'aid' them!"